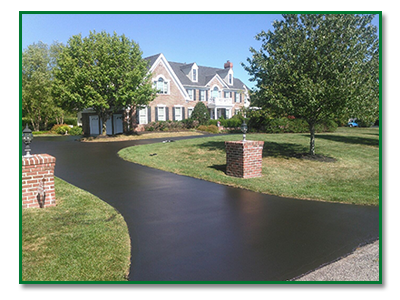 Driveway Concepts offers sealcoating to fit your specific needs
at your home or business.
We offer a complete commercial and residential sealing that caters to all property owners, homes, restaurants, hotels, banks, gas stations, hospitals, grocery stores, and any other business.
We use all Sealmaster products, including coal tar emulsion or asphalt emulsion. We add several modifiers to our sealer. Products like Black Beauty sand add grit and improve durability. Sealmaster's TopTuff and FSA increases sealer "toughness", giving a blacker final product and greatly increases resistance
to oil, fuels and grease.
These products as well as our methods of application are what seperates us from the competition and made our company a
top 3 buyer of product in the tri-state region.
Terms and Conditions: For your convenience we have added our Sealcoating Terms and Conditions to this page, Click Here to view.
Asphalt Sealcoating Materials Explained: There are several types of asphalt seal coating materials that contractors can apply to asphalt. These materials include Coal Tar Emulsion, Asphalt Emulsion and Oil Based sealers. This article will cover the different types and the benefits of each. Click Here to read more.