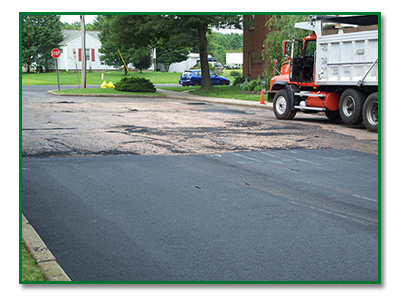 Driveway Concepts offers any commercial paving services you need; including complete installs, overlays, extensions, tear-outs and new parking lot construction. Complete EP Henry driveways, borders and aprons are also available.
Overlays consist of cutting key-ways where the asphalt meets the concrete, shimming, cleaning the surface and then applying a tack coat for greater adhesion. We then add a 1 to 2 inch mat of ID2 top hot asphalt and roll for optimum compaction.
Tear-outs are just as they sound. Remove all old asphalt and haul it away for recycling. Re-base and compact the surface. Then, add new ID2 top hot asphalt on the new base.
EP Henry driveways are available for the customer who wants more. This process involves excavating the driveway and removing appropriate areas. Applying a minimal of 8 inches of 2A modified stone sloped to proper grade and 1 inch of coarse concrete sand. Finally block or bricks are set in the desired colors and patterns.
Terms and Conditions: For your convenience we have added our commercial paving Terms and Conditions to this page, Click Here to view.